Introduction
Organizations collect and store data for all kinds of reasons, from understanding their customers and anticipating market changes to measuring their performance over time and making strategic business decisions. But as valuable as organizational data is, it can also be dangerous.
The problem is that sensitive data may be valuable to others as well—which is why there are thousands of vendors selling stolen data on the black market.
One critical way for organizations to protect their sensitive data is to limit access to it. That's what data access governance is all about. By adopting data access governance policies and practices, organizations can better shield their most valuable data assets from unauthorized disclosure.
In this post, we'll define data access governance and consider why it's so important. We'll also set out the four primary principles of data access governance and four ways strong data access governance can benefit organizations. Last but not least, we'll review the essential features organizations should look for in a data access governance solution.
Contents
What is data access governance?
The difference between data access governance and data management
The importance of data access governance
The 4 principles of data access governance
4 ways data access governance benefits organizations
What to look for in a data access governance solution
Achieve better data access governance with IPRO solutions
What is data access governance?
Data access governance encompasses the structures and processes that organizations use to manage access to their digital information and limit who can view and interact with each data asset. An organization's data access governance program may leverage a variety of methods and approaches to collect, store, safeguard, and grant or limit access to data.
A comprehensive data access governance program includes written policies, technological tools to control data access, standardized procedures for implementing data access limitations, and organization-wide training about how and why the organization protects its data assets.
So, how does data access governance differ from data management?
The difference between data access governance and data management
Data access governance and data management both seek to control aspects of an organization's data, but they differ in their area of focus. Data access governance limits access to data; where data is stored is less important than who can view or interact with that data. On the other hand, data management is concerned with the organization and maintenance of data, but not necessarily with access to that data.
Data access governance is an important yet narrow part of an organization's overall approach to using and protecting its data. The following chart puts these differences into perspective by comparing and contrasting data access governance and data management.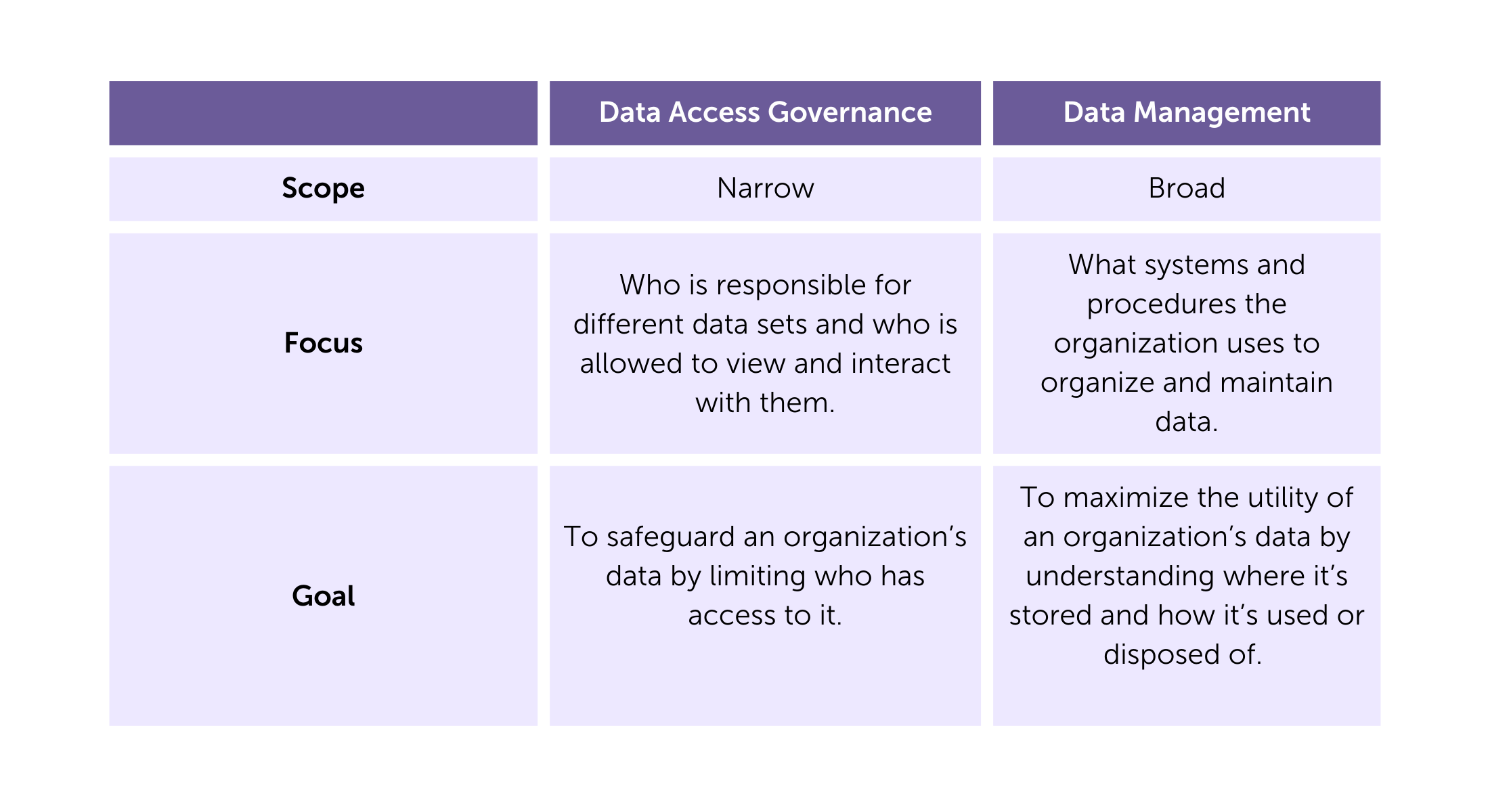 Of course, most organizations already have cybersecurity controls to protect their data. Why do they need to address data access governance specifically? Let's look at why it's important to control access to organizational data.
The importance of data access governance
Data access governance helps organizations protect data from unlawful disclosures and breaches by limiting who has access to data in the first place. In an age where security incidents are becoming increasingly common—not to mention expensive to remedy—data access governance is an integral part of an organization's cybersecurity strategy.
An organization's people remain its biggest cybersecurity threat. Whether through intentional malfeasance or careless errors, current and former employees can easily open the floodgates to all manner of intrusions.
But they can't grant access they don't have. Data access governance helps organizations lock down their critical data so that only those employees who need to see or use it can do so. That enables organizations to proactively protect sensitive data, defending it even when cyberattacks occur.
What's involved in data access governance? Let's turn next to the main principles that guide data access governance programs.
The 4 principles of data access governance
While there are many ways to administer an effective data access governance program, strong data access governance generally revolves around the following four key principles.
1. Integrity
Organizations can't meaningfully control access to data if they don't know what data is sensitive or what makes that data sensitive. That's why ensuring data integrity and quality is an essential precursor to accurately categorizing it and assigning access privileges. If an organization's data is inaccurate, incomplete, outdated, or unreliable, it will be difficult or impossible to determine who needs to access what specific data in the performance of their job duties. As a result, the organization will be forced to grant overly broad access that leaves sensitive data vulnerable to cyberattacks.
2. Transparency
Transparency—both within and outside the organization—is an integral part of maintaining accuracy in collecting and using data as well as authorizing access to it. If employees don't understand what types of data they have or use, they will struggle to categorize and shield that data appropriately. Legal teams should first verify that the organization is collecting and using data correctly and then ensure that its data policies clearly convey the purposes and proper uses of the organization's data. They should also make sure that the organization is transparent in explaining its data collection and access practices to consumers and regulators where required.
3. Accountability
Policies are worthless if they're routinely ignored. That's true whether everyone disregards a policy or only one person does. Organizations must enforce their data access governance policies across the board, holding people accountable for knowing and following those policies regardless of their role in the organization. Accountability may include tracking and auditing data to check for issues or bringing concerns about data access to the organization's legal counsel or management team so that they can remedy any problems and mitigate damage.
4. Consistency
An organization must manage its data consistently for its data and access management practices to be effective. Otherwise, different departments could adjust definitions, data categories, and access control practices to their preferences, creating confusion and chaos. Consistency also means that departments need to collaborate with one another to stay on the same page.
Next, let's take a look at the long-term benefits that organizations can realize by incorporating these four principles into their data access governance programs.
4 ways data access governance benefits organizations
Strong data access governance benefits organizations across many different industries, from financial services to retail to healthcare. Here are four benefits that data access governance can offer organizations.
1. Protection against cyberattacks
An organization that grants broad access to its data will have a higher risk of encountering malware (such as a virus or ransomware) because there will be more people through which cyber attackers can infiltrate its network. Limiting data access to only those who need it reduces the risk of a cyberattack and streamlines risk mitigation by limiting the number of vulnerabilities that must be patched.
2. Prevention of information leaks
Current or former employees—and others with access to organizational data—may expose trade secrets and other confidential information either intentionally or accidentally. But, as noted before, they cannot leak sensitive information that they don't have access to. Strong data access governance helps organizations protect their sensitive data from unauthorized disclosure and reduce the number of potential leaks.
3. Increased data compliance
The dramatic growth of organizational data has been accompanied by a substantial uptick in data regulation. In recent years, organizations (especially those in the financial, healthcare, and government sectors) have been facing an increasing number of data privacy regulations in particular.
Data access governance is an important part of any organization's compliance program. It helps organizations safeguard sensitive data such as employee records and protected health information (PHI) under the Health Insurance Portability and Accountability Act of 1996 (HIPAA). It also gives organizations a way to show government agencies the efforts they have made to comply with relevant laws and regulations. That helps organizations avoid the most damaging regulatory consequences, such as time-consuming investigations and steep fines.
4. Protection from reputational harm
Data breaches and regulatory actions can severely harm an organization's reputation. By shoring up their approach to data access governance, organizations can show regulators, customers, and the general public that they take data privacy and security seriously. That can aid them in garnering trust, preserving their reputation, and ensuring data loss prevention associated with poor data security and controls.
The right technological solutions enable organizations to manage data access consistently and efficiently. Let's consider the features those solutions should have.
What to look for in a data access governance solution
Data access governance software is crucial for managing who can view and interact with organizational data. These platforms allow corporate legal teams and their law firms to search, review, and categorize large volumes of data quickly and easily. They're especially helpful for organizations that store many types of data across multiple repositories or regularly handle sensitive data and need an added layer of protection.
Here are five key functions to look for when selecting a data access governance solution:
1. Data owner enrollment that allows users to assign data ownership to employees throughout the organization;
2. Permissions lifecycle automation that tracks an employee's permissions levels throughout their tenure with the organization;
3. Access level review that gathers information regarding levels of access across data sets;
4. Unauthorized access detection that alerts the organization of potential data breaches and inappropriate actions, including the alteration or deletion of data; and
5. Immediate lockdown capabilities that instantly remove individuals' access privileges to breached data to mitigate further harm.
Fortunately, organizations don't have to pick and choose; modern technology offers all of these functions in a single platform.
Achieve better data access governance with IPRO solutions
By leveraging technology, corporate legal teams and their law firms can understand the full picture of their organization's data and flawlessly execute a data access governance program—quickly, easily, and without going over budget.
For example,IPRO's suite of data access governance solutions allows users to reduce the overall amount of data an organization stores, thereby lowering both the risk of a data breach and its costs. IPRO's tools also help users audit their organization's data to ensure legal and regulatory compliance and monitor for risk in real-time. With IPRO's data access governance tools, users can:
assign data ownership,
track permissions levels,
detect potential threats or compromises to data, and
immediately remove access privileges to at-risk data.
IPRO's easy-to-use solutions enable corporate legal teams and law firms to give their organizations and clients peace of mind at a price they can afford.
For more information about IPRO solutions, get in touch with us or schedule a demonstration today.